Specifications
| | |
| --- | --- |
| Quantity of parts, pcs | 45 |
| Difficulty level, from 1 to 8 | 1 |
| Hours to assemble (average) | 1 |
| Model size (cm) | 17.3×5.3×4.3 |
| Model size (inch) | 6.81×2.09×1.69 |
| Scale | 1:72 |
Stainless Steel
Metal Craft
Historically accurate model
Prototype history
"The Iron Horse" - the main helper in any work. After tractors replaced horses, things went uphill for everyone - farmers, builders, carriers, and representatives of many other professions that require additional strength to move cargo. And although the architecture of a tractor as a mechanical device is quite uniform, there are models that are standard versions of it.
In Ukraine this is certainly "Slobozhanets". This unit is based on the legendary product of Kharkiv Tractor Plant and is its successor and continuation of tractor-building traditions. It is a multi-purpose tractor with a diesel power unit with a capacity from 180 to 250 hp. Its universal layout of units and parts allows it to be a platform for many attachments - from a tractor to a railway draisine. But in any role, "Slobozhanets" stands out for its reliability and high efficiency.
The tractor has been developed in various modifications but the most common and recognizable one has an engine block at the front, a cubic cabin above gearbox, and functional body kit at the rear.
The mini-model for self-assembly "SLOBOZHANETS" – is a good gift for all lovers of heavy special equipment, history of engineering thought, and fans of technical modeling. This small set can be the beginning of an interest in assembling scale models. It will give you and your loved ones several hours of joint creativity and positive communication.
Features, benefits
The "SLOBOZHANETS" model can serve as an independent part of your collection or as part of larger projects. The model features a recognizable design by Kharkiv engineers: a unique profile, engine with a sloping top cover, chassis with four large wheels, cabin, and other details. The tires on model wheels attract attention with imitation treads. In addition to the tractor set also includes a platform for any cargo. Both parts are movable and can be used together or separately.
Textures and images have been applied to surfaces using electrochemical etching, giving model similarity to the original machine. All model parts are made of stainless steel used in the food industry, the production of consumer goods and toys. Assembly of "SLOBOZHANETS" excludes any harm to the owner. Precise cutting allows assembling models without the use of additional tools, soldering, or gluing.
The "SLOBOZHANETS" scale model can be used as a souvenir, interior decoration, or toy. It can also be used to create installations, layouts, or reconstructions of agricultural, construction or transport sites. Other "Metal Time" models of corresponding size can be placed on moving platform and even create a road train based on tractor and several platforms. This model will take its rightful place on the stand with a collection of "Metal Time workshop" models. But its main purpose is technical creativity joint modeling development of manual skills.
Assembly of "Metal Time" models encourages owners to study the history of technology and develop construction skills. Each of our models has a unique serial number making them collectible and exchangeable items. The "Metal Time" constructors club is a growing community, passionate about construction.
The "Metal Time" loyalty program regularly presents pleasant surprises to our DIY sets owners.
TRACTOR IS MADE OF
REAL STEEL

WITH

TRAILER
What is in the giftbox?
| | |
| --- | --- |
| Steel sheets, pcs | 3 |
| Polishing Cloth | YES |
Easy to fold
All parts are separated and connected with light finger pressure, which eliminates possible cuts or pricks during the assembly process.
The Metal Time kits comprises small parts that, under particular conditions, may be hazardous to children under the age of 14 years. If children are to carry out the model assembly, parents' supervision should be ensured.
User guide
14 languages User's guides will lead you through assembling process. In coming up with design for creative people, there is no borderline between imagination and reality.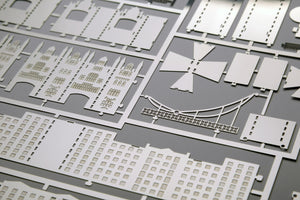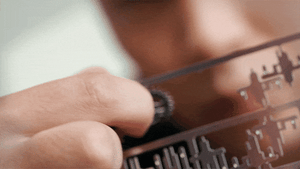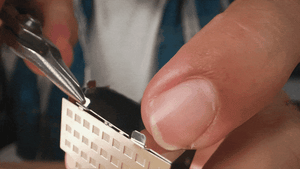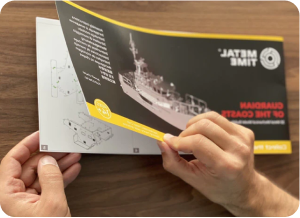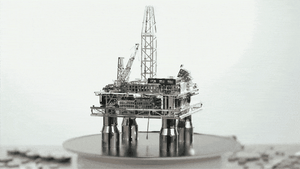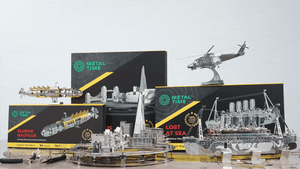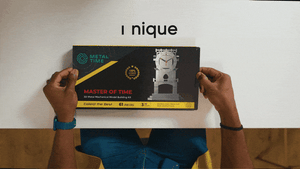 Purpose
Models are made up of many, small parts, which may be dangerous to children under 14 years old. The assembly of the model by children under 14 should be carried out under the supervision of parents. Models research and assembly advance technical creativity skills inspire science and technology history research.
Models of Metal Time are active leisure and superb gifts, interior embellishments, installation elements, models and showcase stands.
To make them gatherable and exchangeable, each of our models is assigned a unique serial number. The Metal Time Owners' Club is a group of people who are zealous about designing.
The loyalty program of Metal Time presents owners of our construction sets with pleasant surprises. Our models do not require glue or adhesive. Each part snaps off the sheet, then firmly snaps together.