Specifications
| | |
| --- | --- |
| Quantity of parts, pcs | 270 |
| Difficulty level, from 1 to 8 | 8 |
| Hours to assemble (average) | 20 |
| Model size (cm) | 30.5 x 12.4 x 30.2 |
| Model size, inch | 12 x 4.88 x 11.89 |
Windup mechanism
Turbines Blades Rotation
Nose cargo door opening
Removable pedestal
Prototype history
In 1988, Antonov Aviation built the world's largest cargo aircraft, the AN-225, named Mriya (translated from Ukrainian, means Dream) and landed it at the Gostomel airport, in Kyiv, Ukraine.
Its specifications were astonishing: it was 275 feet long, 288 feet wide and 59 feet tall. To understand just how enormous Mriya was imagine a six-story house with four entrances. The Mriya weighed 350 tons (700,000 lbs.) and could lift another 250 tons (500,000 lbs.). This was an absolute record. Mriya was a beast. No plane on earth could come close to that much carrying capacity. For example, Mriya could transport a herd of 42 elephants, or more than 1.8 million iPhones.
Over the years, the Mriya AN-225, has transported giraffes, yachts, parts of power plants and other large items other planes could not transport. Mriya carried the first Soviet "Shuttle" called "Buran" made its longest flight. After a short flight into space, the Buran remained grounded, but the Mriya would continue to soar!
In memory of the amazing, unique, aircraft, Metal Time presents our model, the Ukrainian Dream.It was the result of a joint initiative between Antonov, Metal Time, and the Ukrainian Postal Service, Ukrposhta. Ukrainian Dream is an officially licensed model. So, we have paid great attention to every possible detail.The design case and movement were designed with great precision, to ensure each part moved correctly, and was visually accurate.The aircraft rests on a stand and can be easily removed. But with just a few turns if the key you can wind the mechanism, and once it is winded, the gears turn to move all six engines, and each turbine to simulate flight.
In addition to all necessary parts for assembly, the set includes the limited-edition Mriya the Dream" postage stamp. Along with the Stamp, is a certificate of appreciation and support from Antonov Aviation, documenting your support of Mriya, and the aviation rebuilding programs.
Features, benefits
Together with Antonov, Metal Time supports Ukrainian aviation rebuilding programs, including:
- the restoration of the AN-225 Mriya aircraft;
- training of new pilots and aircraft engineers;
- the restoration of houses of Antonov employees, destroyed during the war.
Like all Metal Time prefabricated construction sets, the Ukrainian Dream model is made of the highest-quality, eco-friendly stainless steel, which has been approved for the production of consumer goods and toys.
Precise laser cutting of the set eliminates the possibility of cuts during the assembly process.
Made from brushed and polished stainless steel, our models stand apart from traditional models, made from plastic or wood.
With each purchase of a Metal time model you will also receive a club badge, a thank you card and a unique serial number assigned to each model. Joining the Metal Time club opens up additional opportunities for each buyer.
The Ukrainian Dream — is not just a do-it-yourself, mechanical model, or a beautiful souvenir. This is a monument, dedicated to engineers and workers of Antonov Aviation, who created this engineering marvel. Considering that there was only 1 AN-225 ever built, this model is allows us to let Mriya to live on, while we await its return.
Building our models will not only bring you hours of enjoyment, but they will also teach you about unique icons of history.
"Metal Time" models are not only for your own enjoyment, but they also make excellent gifts. And look great in your home or office.
Each of our models has a unique serial number, making them collectible and tradeable. The Metal Time Owners' Club is a growing community of people who are passionate about modeling.
Our "Metal Time" loyalty program gives surprises members to our members.
Ukrainian Dream is perfect for model collectors, aviation fans, and history lovers, alike. This model is the flagship of Metal Time's "aviation collection", which already has about a dozen legendary aircraft.
Mriya will look great in your home or office, and makes an awesome gift for that person in your life who is a fan of aviation, or icons of history. And a portion of each model sold is given to the restoration of Ukrainian aviation.
The prefabricated model "Ukrainian Dream" is intended for a wide range of users aged 14 and over.The Metal Time Constructors Owners Club is a growing community of people who are passionate about constructing.The loyalty program "Metal Time" regularly presents the owners of our members with pleasant surprises.
CARGO PLANE IS MADE WITH
WINDUP MECHANISM

WHICH ALLOWS IT TO

ROTATE BLADES

OF TURBINES AND

OPEN IT'S NOSE
What is in the giftbox?
| | |
| --- | --- |
| Steel sheets, pcs | 7 |
| Power spring | YES |
| Gears | YES |
| Bearings | YES |
| Stickers | YES |
| Chassis wheels | YES |
| Pliers | YES |
| File | YES |
| Assembling Gloves | YES |
| Polishing cloth | YES |
| Collector's Pin | YES |
| Club Stickers | YES |
| Postage stamp "Ukrainian Dream" | YES |
| Certificate of appreciation | YES |
Easy to fold
All parts are separated and connected with light finger pressure, which eliminates possible cuts or pricks during the assembly process.
The Metal Time kits comprises small parts that, under particular conditions, may be hazardous to children under the age of 14 years. If children are to carry out the model assembly, parents' supervision should be ensured.
User guide
14 languages User's guides will lead you through assembling process. In coming up with design for creative people, there is no borderline between imagination and reality.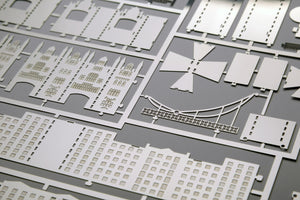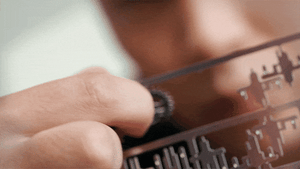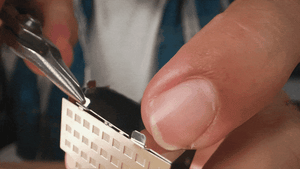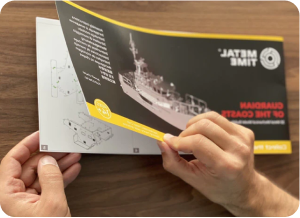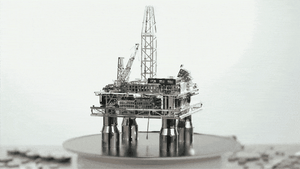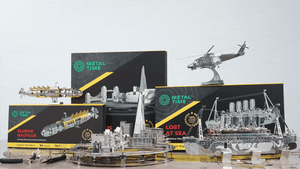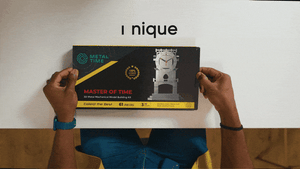 Purpose
Models are made up of many, small parts, which may be dangerous to children under 14 years old. The assembly of the model by children under 14 should be carried out under the supervision of parents. Models research and assembly advance technical creativity skills inspire science and technology history research.
Models of Metal Time are active leisure and superb gifts, interior embellishments, installation elements, models and showcase stands.
To make them gatherable and exchangeable, each of our models is assigned a unique serial number. The Metal Time Owners' Club is a group of people who are zealous about designing.
The loyalty program of Metal Time presents owners of our construction sets with pleasant surprises. Our models do not require glue or adhesive. Each part snaps off the sheet, then firmly snaps together.