Specifications
| | |
| --- | --- |
| Quantity of parts, pcs | 29 |
| Difficulty level, from 1 to 8 | 1 |
| Hours to assemble (average) | 1 |
| Model size (cm) | 15.4×4.4×4.2 |
| Model size (inch) | 6.06×1.73×1.65 |
| Scale | 1:72 |
Real Steel
Branded by Wargaming
Turnable Turret
Historically accurate model
Prototype history
Before World War II, the British military was concerned with building a fleet of new tanks. It was to be headed by a new super-heavy tank for storming enemy positions. The British had experience in building such vehicles since World War I. They were clumsy huge moving fortresses with powerful armor and armament. Therefore, the object called "TOG II" also had these qualities.
The armored monster with a weight of 82 tons, a height of 3 m, and a length of more than 10 m had to strike fear into the enemy. Like its predecessors, the running gear of the tank was concealed inside the hull, and the tracks protruded from the central part, which was an armored capsule for weapons and a crew of six.
At first, the designers had an idea to hang the armament also on the sponsons, but then it was moved to the front of the tank and the sponsons became part of the main body. Hatches were made in them for the ejection of shells and loading of ammunition.
The main gun of the "TOG II" was a 75mm "QF 17 pounder" anti-tank gun, the best in its class in service in Great Britain. In addition to this, the front of the tank had a slot for a 7.92mm "BESA" machine gun.
"The TOG II" was propelled by a 600 hp "Paxman-Ricardo" engine. The speed of the tank was not high, but its purpose was not to make a rapid assault but to destroy trenches and fortifications of the enemy and destroy tanks and manpower of the enemy. The role of the tank as a mobile gun was also considered, but later this idea was rejected.
Features, benefits
"TOG II" was produced in a single copy and was used as a technology test bed. This model still exists today in a museum in Bovington, England.
The super tank did not fire a single shot at the enemy but gave a big boost to technology and inspired engineers to create many heavy combat vehicles.
In the popular tank MMO game "World of Tanks" this tank is among the premium tanks. Machine level 6 demonstrates high performance and is upgradeable, which allows you to win a lot of victories in the virtual fields of battle. It is a rare and honorable trophy for "WoT" fans.
"TOG II" self-assembly model is a collaboration product of "Wargaming" and "Metal Time Workshop". There is a "WoT" logo on the bottom of the model and each kit comes with a bonus pack from "Wargaming". It contains the activation code of the game with which you can start playing the most popular online tank strategy, as well as "T2" light tank + Slot +7 Days of "WoT" premium account + 500 gold. A great start for those just starting out as an online tank player!
In the model "TOG II" implemented a recognizable design of fortress on wheels: turret with a gun, long hull, hidden running gear, hatches in the ponsons and turret. The surfaces are textured and etched by electrochemical etching, giving the model a resemblance to the original fighting vehicle. All parts of the model are made of stainless steel, used in the food, consumer goods, and toy industries. Assembly of "TOG II" excludes any harm to the owner. Precise cutting allows the models to be assembled without additional tools, soldering, and gluing.
The collected scale model of "TOG II" can be used as a souvenir, an interior decoration, or a valuable prize for the fans of "WoT". It can also be used to create installations, models, or reconstructions of World War II tank battles. It will take a worthy place at the stand with the "Metal Time workshop" and "World of tanks" prefabricated models collection. But its main purpose is technical creativity, joint modeling, and the development of handmade skills.
"Metal Time" DIY models encourage their owners to study the history of technology and develop skills in construction. Each of our models is assigned a unique serial number and it turns them into a subject of collection and exchange. The "Metal Time" Owners Club is a growing community of enthusiastic builders.
TANK IS MADE OF REAL STEEL WITH
TURNABLE TURRET

AND

HISTORICAL REALITY EXTERIOR DECOR
What is in the giftbox?
| | |
| --- | --- |
| Steel sheets, pcs | 3 |
| Polishing Cloth | YES |
| Unique Invite Code | YES |
Easy to fold
All parts are separated and connected with light finger pressure, which eliminates possible cuts or pricks during the assembly process.
The Metal Time kits comprises small parts that, under particular conditions, may be hazardous to children under the age of 14 years. If children are to carry out the model assembly, parents' supervision should be ensured.
User guide
14 languages User's guides will lead you through assembling process. In coming up with design for creative people, there is no borderline between imagination and reality.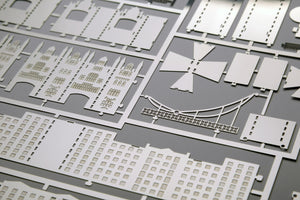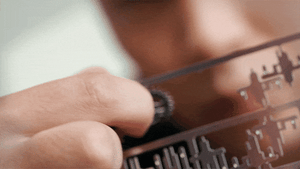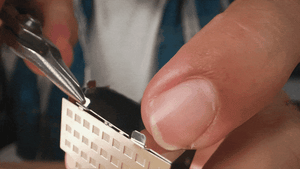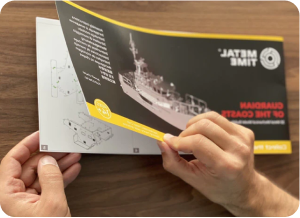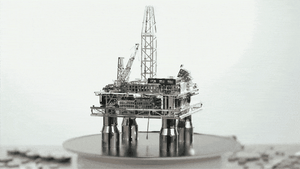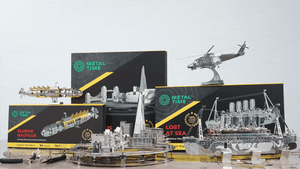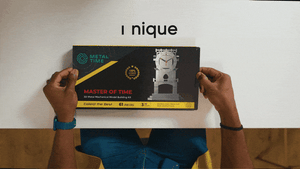 Purpose
Models are made up of many, small parts, which may be dangerous to children under 14 years old. The assembly of the model by children under 14 should be carried out under the supervision of parents. Models research and assembly advance technical creativity skills inspire science and technology history research.
Models of Metal Time are active leisure and superb gifts, interior embellishments, installation elements, models and showcase stands.
To make them gatherable and exchangeable, each of our models is assigned a unique serial number. The Metal Time Owners' Club is a group of people who are zealous about designing.
The loyalty program of Metal Time presents owners of our construction sets with pleasant surprises. Our models do not require glue or adhesive. Each part snaps off the sheet, then firmly snaps together.