Specifications
| | |
| --- | --- |
| Quantity of parts, pcs | 234 |
| Difficulty level, from 1 to 8 | 6 |
| Hours to assemble (average) | 8 |
| Model size (cm) | 48.5 x 5.4 x 7.0 |
| Model size (inch) | 19.10 x 1.97 x 2.75 |
| Package size | L |
Stainless Steel
Metal Craft
Wind-up moving mechanism
Prototype history
Almost everyone knows the romance of railroad travel. The swinging of the wagon, the clatter of wheels on the railroad switches, the endless ribbon of landscapes in the window - foreign cities, forests, and rivers. Bridges, train stations, exotic places - all of this pass you while you are waiting for your arrival and drinking coffee in a comfortable chair of the express.
The freight train - it's a different thing. The main «workers» of railways. The freight train is the smell of hot metal and brake pads, dust and hard work of the crew. On the other hand, there is a huge variety of locomotives, wagons, tracks and tasks. A real paradise for the model collector.
Freight trains have been used since the 18th century and have become the main vehicle for goods transportation in some countries like USA, Australia, South Africa, Brazil. Among the freight trains, there are record holders in carrying capacity and length. Trains of more than 7 kilometers long have been recorded In Australia, Africa, and Kazakhstan! Some of them consisted of nearly 500 elements, wagons and locomotives. Each of these transported up to 70 thousand tons of cargo! But the main work on the transportation of goods is done by our usual "freight trains". Our model is dedicated to them.
Creating a freight train model "Heavy Loco", the engineers of "Metal Time" knew that they were entering the desired by designers and collectors territory. The abundance of models and modifications of railway equipment and infrastructure, the technical complexity of locomotives and special carriages is a challenge for every creator of prefabricated models. And we have accepted it. Heavy Loco is a modular freight train with three units - a locomotive, a hopper and a covered wagon. The locomotive is equipped with a winding spring mechanism that drives the entire train on the rails using gears and a guide belt.
Considering the scalability of this model, Metal Time plans to create a variety of wagons and locomotives for collectors, as well as lengthen the track for the construction of a miniature railway.
Features, benefits
The Heavy Loco is equipped with a winding up spring motor. The train wheels and rails are equipped with cogs that ensure stable contact. The train will not go off the rails while driving! You can assemble a more authentic train, lengthen the track and create your own mini-railroad using several constructors. "Metal Time" plans to release other models of railway transport with this method of connection, which will allow creating different routes for trains.
The train consists of a locomotive, a hopper and a covered wagon. All three models are made with attention to the realism of details.
Ornaments and artistic elements on the sides of the wagons and the locomotive give the model originality. It will look like a designer status item in the interior.
An overview of the working mechanisms of the locomotive will add interest to technical creativity among children, for whom the Heavy Loco will become a favorite toy.
FREIGHT TRAIN IS MADE WITH WINDUP MECHANISM WHICH
ALLOWS IT TO MOVE
What is in the giftbox?
Besides, every customer gets a club badge "Metal Time" and the club's registration card, which creates opportunities for the "Metal Time" constructor owners activities.
Heavy Loco can move on surface without tracks.
| | |
| --- | --- |
| Steel sheets, pcs | 7 |
| Gears | YES |
| Rails | NO |
| Power spring | YES |
| Pliers | YES |
| File | YES |
| Assembling Gloves | YES |
| Polishing cloth | YES |
| Collector's Pin | YES |
| Club Stickers | YES |
Easy to fold
All parts are separated and connected with light finger pressure, which eliminates possible cuts or pricks during the assembly process.
The Metal Time kits comprises small parts that, under particular conditions, may be hazardous to children under the age of 14 years. If children are to carry out the model assembly, parents' supervision should be ensured.
User guide
14 languages User's guides will lead you through assembling process. In coming up with design for creative people, there is no borderline between imagination and reality.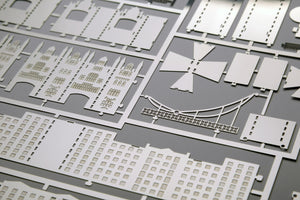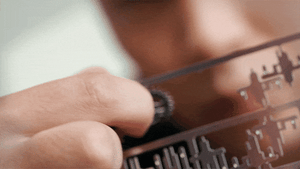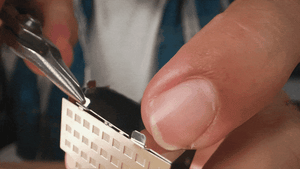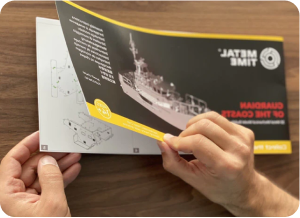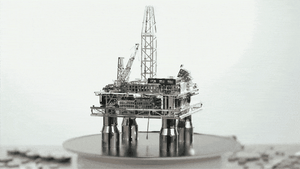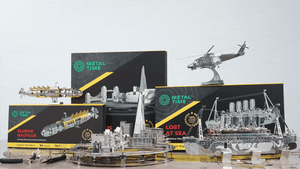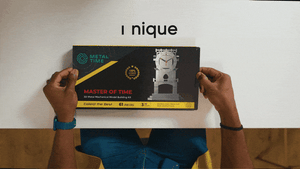 Purpose
Models are made up of many, small parts, which may be dangerous to children under 14 years old. The assembly of the model by children under 14 should be carried out under the supervision of parents. Models research and assembly advance technical creativity skills inspire science and technology history research.
Models of Metal Time are active leisure and superb gifts, interior embellishments, installation elements, models and showcase stands.
To make them gatherable and exchangeable, each of our models is assigned a unique serial number. The Metal Time Owners' Club is a group of people who are zealous about designing.
The loyalty program of Metal Time presents owners of our construction sets with pleasant surprises. Our models do not require glue or adhesive. Each part snaps off the sheet, then firmly snaps together.