Specifications
Quantity of parts, pcs
108
Difficulty level, from 1 to 8
4
Hours to assemble (average)
10
Model size (cm)
9.5×9.8×12.5
Model size (inch)
3

.74×

3.86×

4.92

Package size
L
Inertial mechanism with flywheel
Double color
Realistic wheels
Prototype history
Many secrets of the planet would not have been discovered if people had not invented cars that could drive along the most difficult route. There are no obstacles for all-terrain vehicles since obstacles are their usual road. Powerful engine, large low-pressure wheels, independent suspension, sealed windows and doors - and you are ready to search for treasures where no man has gone before.
ATVs have gone through many transformations, and now engineers are inventing more and more new configurations - from amphibians to rovers. Therefore, all-terrain vehicles are an eternal source of inspiration for technical creativity.
The designers of ''Metal Time'' took the Ukrainian ''SHERP'' all-terrain vehicle with ultra-low-pressure wheels as the basis for the ''Trophy Hunter'' self-assembly model. Such machines have long been working in remote areas of the planet. But the creators could not resist the temptation to give the model futuristic features, thanks to which it became like a character in a science fiction film about the conquest of other planets. Space opera lovers will love it.
Features, benefits
The ''Trophy Hunter'' DIY Model is an all-terrain vehicle concept for exploring other worlds. Due to the large tubeless wheels with rubber tires, the model can overcome obstacles up to 1/3 of its height.
The model is equipped with an inertial mechanism with a flywheel, which allows the model to move independently after acceleration. This opens opportunities for modelers to compete in the range and speed of their models.
"Trophy Hunter" is decorated with colored futuristic elements, ornaments, and decorative details. Six exhaust pipes give the model the appearance of a powerful device, ready to overcome obstacles.
The designers paid great attention to the details inside the model. The seats and dashboard in the cab are clearly visible through the windows. Windows in the luggage compartment allow you to see the flywheel and gears of the mechanism, and their work while driving.
Many parts and a complex mechanism will force the owners of the ''Trophy Hunter'' DIY kit to use their mechanical talents to the fullest.
Like all ''Metal Time'' DIY construction kits, the ''Trophy Hunter'' model is made of eco-friendly stainless steel, used in the food industry, and approved for the production of consumer goods and toys.
Precise cutting of the set eliminates the possibility of cuts during the assembly process. The parts are precisely adjusted to each other and will not create problems when articulating.
The pleasant tactile sensations, strength, and aesthetics of brushed metal favorably distinguish steel parts from wooden or plastic used in other designers' kits.
Convenient flat packaging made of eco-friendly recyclable cardboard combines the compactness and aesthetics of a status gift.
Each purchase of a Metal Time model receives a club badge, a thank you card, and a unique number assigned to each model. Joining the Metal Time club opens additional opportunities for each buyer.
Model "Trophy Hunter" is a gift for true lovers of adventure, travel, fantasy, and powerful cars. After assembly, this model will take its rightful place in the garage of every modeler.
The capabilities of the model allow it to be applied to a variety of activities. You can make the ''Trophy Hunter'' compete with similar models in terms of speed, driving range on the same plant, and overcoming obstacles. And in a variety of obstacles, only your imagination can be a limitation.
In addition to the active function, the ''Trophy Hunter'' model can also perform a purely decorative one. It will take its rightful place on the stand of the collection of models, as well as an original interior decoration for a car enthusiast, a table for a fan of video games, a desktop for a car designer, or a writer of science fiction novels.
The study and assembly of the model develop the skills of technical creativity and encourage the study of the history of science and technology. In addition to training, assembling the model will serve to strengthen the family and office team, as well as have fun in a friendly company. Assembling the Trophy Hunter model is a difficult test of skill, patience, and precision, as well as testing teamwork skills. But as a result, you will get a decent copy for your collection of models. For clubs of interest and friendly companies, this is also an exciting and motivating activity.
"Trophy Hunter" can be part of your "Metal Time" collection dedicated to vehicles, extreme cars, sci-fi, or video games. You can replenish your model car fleet with it, and use it in games, creating layouts, and installations.
Also, an all-terrain vehicle model can participate in various competitions of fashion designers: speed and build quality, model races, overcoming obstacles, etc.
All-terrain

mechanical model of vehicle created with weighty

flywheel

inside
What is in the giftbox?
| | |
| --- | --- |
| Steel sheets, pcs | 4 |
| Gears | Yes |
| Pliers | YES |
| File | YES |
| Assembling Gloves | YES |
| Polishing cloth | YES |
| Collector's Pin | YES |
| Club Stickers | YES |
Easy to fold
All parts are separated and connected with light finger pressure, which eliminates possible cuts or pricks during the assembly process.
The Metal Time kits comprises small parts that, under particular conditions, may be hazardous to children under the age of 14 years. If children are to carry out the model assembly, parents' supervision should be ensured.
User guide
14 languages User's guides will lead you through assembling process. In coming up with design for creative people, there is no borderline between imagination and reality.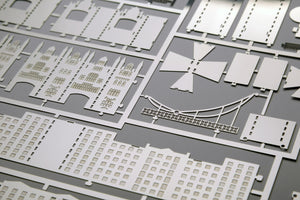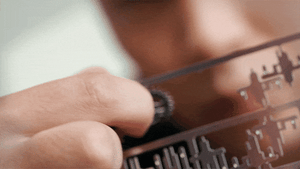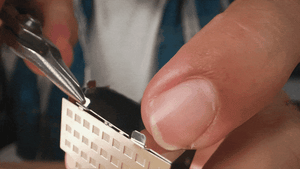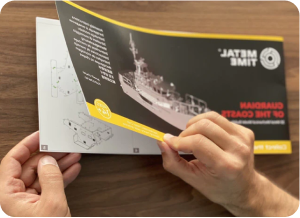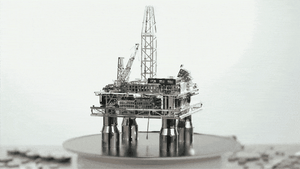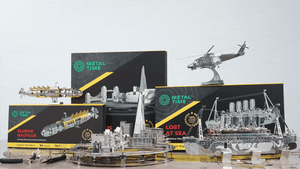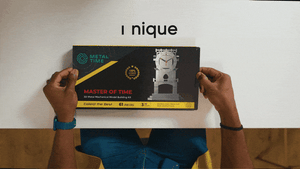 Purpose
Models are made up of many, small parts, which may be dangerous to children under 14 years old. The assembly of the model by children under 14 should be carried out under the supervision of parents. Models research and assembly advance technical creativity skills inspire science and technology history research.
Models of Metal Time are active leisure and superb gifts, interior embellishments, installation elements, models and showcase stands.
To make them gatherable and exchangeable, each of our models is assigned a unique serial number. The Metal Time Owners' Club is a group of people who are zealous about designing.
The loyalty program of Metal Time presents owners of our construction sets with pleasant surprises. Our models do not require glue or adhesive. Each part snaps off the sheet, then firmly snaps together.