Specifications
| | |
| --- | --- |
| Quantity of parts, pcs | 155 |
| Difficulty level, from 1 to 8 | 6 |
| Hours to assemble (average) | 15 |
| Model size (cm) | 13.5 x 7.8 x 6.6 |
| Model size (inch) | 5.32 x 3.1 x 2.6 |
| Package size | M |
Stainless Steel
Rubber wheels
Inertial mechanism
Prototype history
The sun is quickly setting in the horizon, making the mountains look like lava flowing down a volcano. The highways lines shoot by like they were tapped on the road; the hot air is blowing in your face. And the sound of the motorcycle's engine gives you confidence you will get to town before dark. The excitement of the sound of the engine revving through the open road flows through your body. And as you glide down the road on your steel horse, you have never more free.
Harley Davidson is an American icon, a symbol of freedom, known by motorcycle enthusiasts around the world. Harley Davidson began its journey on the American roads in the early 20th century. Americans quickly fell in love with Harley Davidson. Word spread so fast that in 1920 the company became the world's largest motorcycle manufacturer. The name "Harley Davidson" is renowned to all motorcycle lovers. The American motorcycle has been the inspiration for countless books and movies.
"Metal Time" presents Roadway Fantasy. Our homage to America's legendary motorcycle, Harley Davidson. The Metal Time's designers behind this model were motivated by the legendary Harley Davidson Model-F. To many, this two-wheeled mustang symbolizes motorcycle travel. The motorcycle has appeared in books, films, comics, and even video games. Harley Davidson is loved around the world and has a huge cult following. Harleys are known for their representation of freedom and independence.
Regardless of the seeming conciseness of the name, the "Roadway Fantasy" model is very challenging. It has over a hundred parts, and therefore, it requires attention to detail so that you can proudly display your model.
Features, benefits
The Roadway Fantasy is one of the few Metal Time models using material other than stainless steel. Our motorcycle proudly displays rubber tires. Giving it an even more eye-catching look. To "start the engine", simply pull the rear wheel back and let it go!
Designed with great detail, the drop-shaped gas tank, Harley styled handlebars, instrumentation, and front forks, make the model immediately identifiable. Because of the "fat", rear tire, Roadway Fantasy doesn't need a stand. You can place it anywhere.
The Roadway Fantasy serves as a reminder to fans of American-oriented cult films, motorcycle fans, motorcycle club members, or members of the anti-establishment scene that the motorcycle is a symbol of freedom, speed, and adrenaline.
The Roadway Fantasy, like all Metal Time models, is made from the highest-quality stainless steel. Laser cutting does away with the sharp edges. The parts snugly, and firmly fit into each.
The high-quality stainless steel makes our models stand out versus models made from wood, or plastic.
Each buyer of the "Metal time" model receives a Club Card, a Thank you card, and a unique serial number assigned to each model. Appropriate flat packaging crafted from maintainable eco-friendly cardboard integrates a status gift's solidity and aesthetics.
The Roadway Fantasy is made for a broad variety of users from the age of 14 years. The model research and assembly enhance technical creativity skills, inspires the study of science and technology history. Besides being an active leisure constructor, the "Metal Time" models look beautiful displayed at home or the office, and make superb gifts,
To make them collectable and tradeable, each of our models has a unique serial number.
MOTORCYCLE IS MADE WITH
INERCIAL MECHANISM

WHICH ALLOWS IT TO MOVE
What is in the giftbox?
| | |
| --- | --- |
| Steel sheets, pcs | 4 |
| Gears | YES |
| Pliers | YES |
| File | YES |
| Assembling Gloves | YES |
| Polishing cloth | YES |
| Additional parts | Bearings |
Easy to fold
All parts are separated and connected with light finger pressure, which eliminates possible cuts or pricks during the assembly process.
The Metal Time kits comprises small parts that, under particular conditions, may be hazardous to children under the age of 14 years. If children are to carry out the model assembly, parents' supervision should be ensured.
User guide
14 languages User's guides will lead you through assembling process. In coming up with design for creative people, there is no borderline between imagination and reality.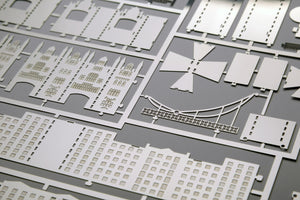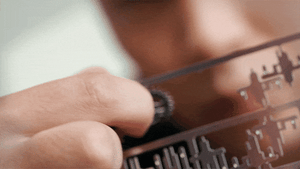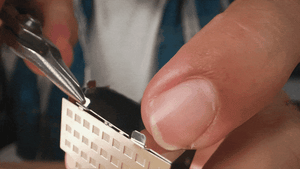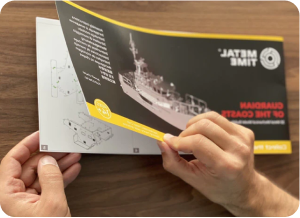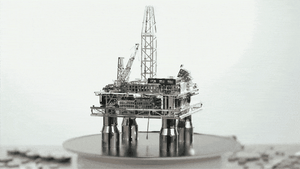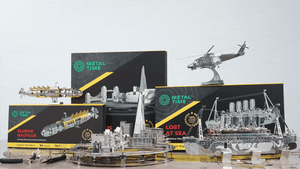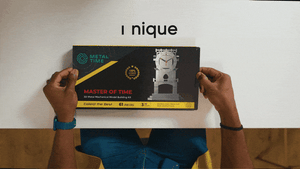 Purpose
Models are made up of many, small parts, which may be dangerous to children under 14 years old. The assembly of the model by children under 14 should be carried out under the supervision of parents. Models research and assembly advance technical creativity skills inspire science and technology history research.
Models of Metal Time are active leisure and superb gifts, interior embellishments, installation elements, models and showcase stands.
To make them gatherable and exchangeable, each of our models is assigned a unique serial number. The Metal Time Owners' Club is a group of people who are zealous about designing.
The loyalty program of Metal Time presents owners of our construction sets with pleasant surprises. Our models do not require glue or adhesive. Each part snaps off the sheet, then firmly snaps together.