Specifications
| | |
| --- | --- |
| Quantity of parts, pcs | 239 |
| Difficulty level, from 1 to 8 | 7 |
| Hours to assemble (average) | 12 |
| Model size (cm) | 36.5 x 6.2 x 5.1 |
| Model size (inch) | 14.37 x 2.44 x 1.97 |
| Package size | L |
Rotating wheels
Light source
Accurate detailing
Steam locomotive mark
Prototype history
At the very late hour of the night before Christmas, when even the most naughty children fall asleep, and only the whistling of a blizzard is heard outside the window, a bright beam of a spotlight suddenly cuts through the snowy haze and it appears in clouds of smoke and steam. Try not to fall asleep, and you will definitely get into his car. This train will take you to the North Pole, where Santa Claus himself collects gifts. Neither high mountains, nor endless snow-covered fields, nor an impenetrable forest will stop the train, and it will definitely arrive on time.
Yes, this is the Polar Express from the animation of Robert Zemeckis - an attentive viewer will exclaim. And it is true. It was this cult film that inspired the designers of Metal Time, creating the Polar Steel model.
The railway is a huge fascinating world for romantics who dream of traveling, fans of the history of the development of technology and design lovers, because every step in the development of railways is associated with millions of original technical solutions. Therefore, the model of the railway is the eternal dream of the overwhelming number of children and adolescents.
Every aspect of railway technology is of interest: tracks, wagons, locomotives and buildings. Someone likes electric locomotives, and someone is still passionate about steam technology. And indeed, the locomotives from the fire-breathing dragons of the childhood of those over 50 have turned into relic samples, of which there are very few left in the real world.
Therefore, the embodiment of steam locomotives in the form of self-propelled models is a successful way to win the hearts of tinkerers.
Engineers, constructors and designers of "Metal Time" tried and created a new designer for self-assembly called "Polar Steel".
This is a model of a ten-axle steam locomotive with a closed tender. Thanks to the use of colored stainless steel, the model has acquired unique color accents.
Tender, cab. Tanks and wheel faces received a matte blue color. The shell of the cauldron has become a dull dark grey. Pipes and fittings, the boiler cover, as well as the details of the lantern are highlighted in matt yellow. As a result, the aesthetics of the steam locomotive has completely changed, and it is no longer associated with black coal, fuel oil and smoke - a real fabulous express train.
A sense of wonder is also created by sound and light effects. Yes, the Polar Steel model is equipped not only with an LED lamp, but also with a sound chip capable of making sounds characteristic of a moving steam engine and its horn.
Add to that the rails and freewheeling wheels and here is another locomotive for the Metal Time railway hub. The perfect gift for any tech lover!
Features, benefits
Like all Metal Time prefabricated construction sets, the Polar Steel model is made of sustainable stainless steel, used in the food industry and approved for the production of consumer goods and toys.
Coping with the assembly of "Polar Steel" is not easy. This is a complex model with 239 pieces, each of which must be properly placed in a unique place in order for the assembled model to function properly. This constructor promises a few days spent in the company of like-minded people or the whole family creating a Christmas miracle.
But when all the difficulties are over, your collection will be replenished with a wonderful exhibit from the world of railway technology. It will decorate any interior even if it just stands on a table or shelf.
And if you make it part of a model of a railway station or depot, it will take its rightful place among the most beautiful models there. And, of course, you can recreate a scene from your favorite cartoon by adding figures of the Conductor and little passengers to the model.
For Metal Time, the Polar Steel model is the continuation of the railway fleet of models in 2022, it shows new trends in construction kits, which are enriched with color parts and devices for lighting and sound effects.
Precise cutting of the set eliminates the possibility of cuts during the assembly process.
Pleasant tactile sensations favorably distinguish steel parts from wooden or plastic used in other designers. Especially in the case of matte surfaces, as in the Polar Steel model.
Convenient flat packaging made of eco-friendly recyclable cardboard combines compactness and aesthetics of a status gift.
The assembly model "Polar Steel" is intended for a wide range of users aged 14 years and older.
The beloved railway theme and aesthetics turn the finished model into an excellent technical and cinematic attraction for children and adults.
The presence of the Polar Steel model in the house will tell you that its owner is prone to changing places, loves complex equipment and knows how to make complex devices himself. Be sure, sooner or later he will invite you on a journey on an exotic vintage train or just watch the trains. And he has a separate room where he builds a model of the railway, which means that you will not get bored with him.
In addition, the assembled model can serve as an interior decoration, part of a collection in a showcase, a key character in an installation on a railway theme or a layout of a railway structure. This is the perfect gift for boys of all ages.
The study and assembly of the model develop the skills of technical creativity, encourage the study of the history of science, technology and world culture.
Each of our models is assigned a unique serial number and this makes them collectible and exchangeable. The club of owners of constructors "Metal time" is a growing community of people who are passionate about constructing.
STEAM TRAIN IS MADE WITH ELECTRONIC MECHANISM WHICH
ALLOWS IT TO MOVE
What is in the giftbox?
| | |
| --- | --- |
| Steel sheets, pcs | 9 |
| Battery box | YES |
| Power switch | YES |
| Gears | YES |
| Electric motor | YES |
| Sound chip | YES |
| LED light | YES |
| Pliers | YES |
| File | YES |
| Assembling Gloves | YES |
| Polishing cloth | YES |
| Collector's Pin | YES |
| Club Stickers | YES |
Easy to fold
All parts are separated and connected with light finger pressure, which eliminates possible cuts or pricks during the assembly process.
The Metal Time kits comprises small parts that, under particular conditions, may be hazardous to children under the age of 14 years. If children are to carry out the model assembly, parents' supervision should be ensured.
User guide
14 languages User's guides will lead you through assembling process. In coming up with design for creative people, there is no borderline between imagination and reality.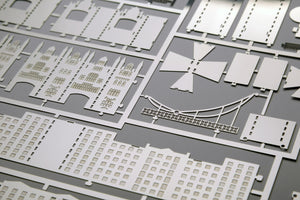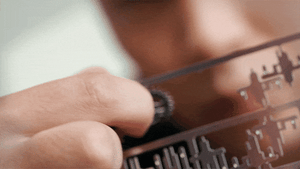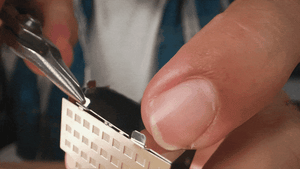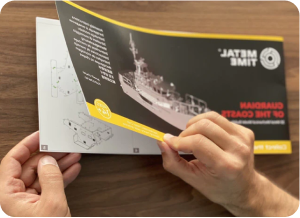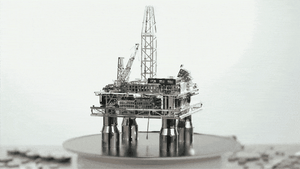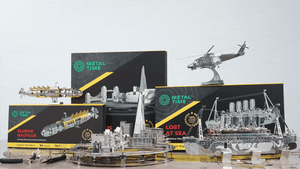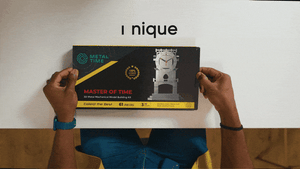 Purpose
Models are made up of many, small parts, which may be dangerous to children under 14 years old. The assembly of the model by children under 14 should be carried out under the supervision of parents. Models research and assembly advance technical creativity skills inspire science and technology history research.
Models of Metal Time are active leisure and superb gifts, interior embellishments, installation elements, models and showcase stands.
To make them gatherable and exchangeable, each of our models is assigned a unique serial number. The Metal Time Owners' Club is a group of people who are zealous about designing.
The loyalty program of Metal Time presents owners of our construction sets with pleasant surprises. Our models do not require glue or adhesive. Each part snaps off the sheet, then firmly snaps together.