Specifications
| | |
| --- | --- |
| Quantity of parts, pcs | 59 |
| Difficulty level, from 1 to 8 | 1 |
| Hours to assemble (average) | 1 |
| Model size (cm) | 11.6×4.4×3.6 |
| Model size (inch) | 4.57×1.73×1.42 |
| Scale | 1:72 |
Real Steel
Turnable Turret
Historically accurate model
Prototype history
Main Battle Tank "Oplot" is the pinnacle of tank development in Ukraine and one of the best tanks designed and produced in series in the post-Soviet space. Based on the Soviet model T-80, "Oplot" underwent almost ten deep modernizations until it met NATO standards and became part of the family of advanced European combat vehicles.
"Oplot" T-84 is equipped with a 1200 hp engine 6TD-2E, capable of reaching a speed of up to 70 km/h on the highway and operating at up to 450 km. The tank's armament consists of a main 125 mm gun, a 12.7 mm anti-aircraft machine gun, and paired 7.62 mm machine guns.
Digital and analog equipment for the commander's console, targeting systems, and a multi-level protection system, including anti-nuclear protection, make this combat vehicle one of the effective European tanks. Successful tests in real combat conditions during the Russian-Ukrainian war only add to this model's score, as it has demonstrated its ability to actively engage in combat, protect, and effectively destroy enemy vehicles and personnel.
Features, benefits
Thanks to this, "Oplot" T-84 was included in the military equipment "Metal Time" collection. The "OPLOT T-84" model for self-assembly will give you several hours of exciting technical creativity. As a result, you will get an excellent addition to your collection of large-scale military models.
The "OPLOT T-84" model moves thanks to rotating wheels and moving tracks. The rotating turret is equipped with the main gun, anti-aircraft machine gun, commander's control room superstructure, and hatch mockups. The texture of the metal surfaces and the images on them are made using the precise electrochemical etching method and realistically replicating the real machine's distinctive features.
All model parts are made of stainless steel used in the food industry, the production of consumer goods, and toys. Assembly of "OPLOT T-84" excludes any harm to the owner. Precise cutting allows you to assemble models without the use of additional tools, soldering, or gluing.
"OPLOT T-84" can be used as an interior decoration, toy, or decorative souvenir. The model can also be used for tank battle reconstructions, collection exhibitions, valuable prizes, or gifts
The "Metal Time" model assembly program encourages owners to study the history of technology, develop design and manual skills. Each of our models has a unique serial number, making them objects of collection and exchange. The "Metal Time" constructors' club is a developing community of enthusiastic designers.
The loyalty program "Metal Time" regularly presents pleasant surprises to the owners of our constructors. The "OPLOT T-84" model consists of small parts that may pose a danger to children under 14 years of age under certain conditions.
TANK IS MADE OF REAL STEEL WITH
TURNABLE TURRET

AND

HISTORICAL REALITY EXTERIOR DECOR
What is in the giftbox?
| | |
| --- | --- |
| Steel sheets, pcs | 2 |
| Polishing Cloth | YES |
Easy to fold
All parts are separated and connected with light finger pressure, which eliminates possible cuts or pricks during the assembly process.
The Metal Time kits comprises small parts that, under particular conditions, may be hazardous to children under the age of 14 years. If children are to carry out the model assembly, parents' supervision should be ensured.
User guide
14 languages User's guides will lead you through assembling process. In coming up with design for creative people, there is no borderline between imagination and reality.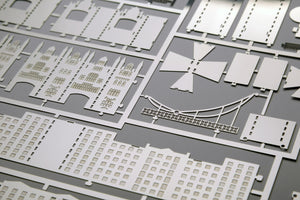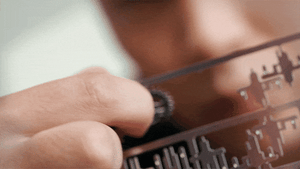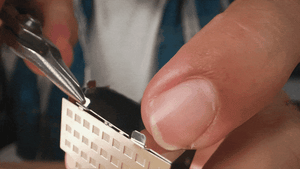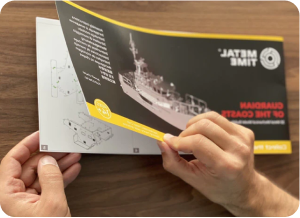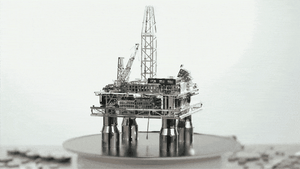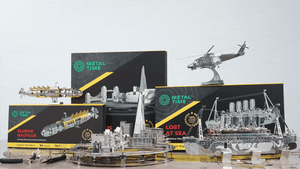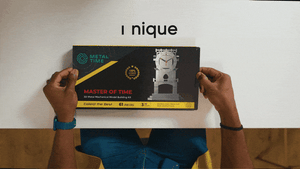 Purpose
Models are made up of many, small parts, which may be dangerous to children under 14 years old. The assembly of the model by children under 14 should be carried out under the supervision of parents. Models research and assembly advance technical creativity skills inspire science and technology history research.
Models of Metal Time are active leisure and superb gifts, interior embellishments, installation elements, models and showcase stands.
To make them gatherable and exchangeable, each of our models is assigned a unique serial number. The Metal Time Owners' Club is a group of people who are zealous about designing.
The loyalty program of Metal Time presents owners of our construction sets with pleasant surprises. Our models do not require glue or adhesive. Each part snaps off the sheet, then firmly snaps together.