Specifications
| | |
| --- | --- |
| Quantity of parts, pcs | 81 |
| Difficulty level, from 1 to 8 | 4 |
| Hours to assemble (average) | 5 |
| Model size (cm) | 19.5 × 25 × 10 |
| Model size (inch) | 7.68 × 9.85 × 3.94 |
| Package size | M |
Stainless Steel
Wind-up moving mechanism
Metal Craft
Prototype history
The idea to cross a boat and an airplane came to the minds of people who carefully studied the world around them. Like the idea of ​​aeronautics in general. Of course, their humanity borrowed from birds. I consider the beginning of the era of flying boats to be the 10s of the 20th century, although the first hydroplane took off in the air as early as 1909. It was created on the basis of its own engine by the American inventor Curtis. And already in 1913, the Ukrainian designer Grigorovich tested the M-1 hydroplane, which marked the beginning of the era of flying boats.
The history of aviation honors the records set by seaplanes: two dead loops on Grigorovich's amphibian, the speed record of the Soviet Be-10 at 912 km / h, the world's largest flying boat, created in China already in the 20s of the new century.
The designers of "Metal time" could not ignore this important milestone in the desire of mankind to fly and presented the modular model "Breeze Drifter".
This is a prototype that incorporates the characteristics of a typical propeller hydroplane. Of course, it does not float, but it has a spring mechanism that drives the screws of the "engines".
Features, benefits
The exciting process of assembling the model will lead to an amazing result: you will get a beautiful, shiny, filigree model of a hydroplane on your desk or in a conspicuous place in the interior, as a matter of pride, or an element of a collection.
The "Breeze Drifter" model can also be part of a tech game, an installation item, or part of an exposition containing other models.
"Breeze Drifter" is gymnastics for the mind, hands, and a tribute to the best engineering minds on the planet, and the perfect gift for those who love technology and dream of flying. The model has a stable stand, it can be used without it
Like all Metal Time building blocks, the Breeze Drifter is made from eco-friendly stainless steel that is used in the food industry and approved to produce consumer goods and toys.
Precise cutting of the set eliminates the possibility of cuts during the assembly process. The parts are precisely adjusted to each other and will not create problems during articulation.
Pleasant tactile sensations, strength and aesthetics of brushed metal favorably distinguish steel parts from wood or plastic used in other designers.
The "Breeze Drifter" is a great gift for fans of aviation and mechanical engineering history. This is an aesthetically positive item that can be a toy for middle-aged children, an interior decoration, and an important detail on a desktop.
"Breeze Drifter" - clockwork driven model with moving propellers. This makes it a great toy for both children and adults. You will be able to arrange flight simulations or even air battles with models in your hands.
This model, like all «Metal Time» products, is also an excellent model for technical creativity.
The DIY model set "Breeze Drifter" is intended for a wide range of users aged 14 and over.
PLANE IS MADE WITH WINDUP MECHANISM WHICH ALLOWS IT TO
ROTATE PROPELLERS
What is in the giftbox?
| | |
| --- | --- |
| Steel sheets, pcs | 4 |
| Gears | YES |
| Power spring | YES |
| Pliers | YES |
| File | YES |
| Assembling Gloves | YES |
| Polishing cloth | YES |
| Collector's Pin | YES |
| Club Stickers | YES |
Easy to fold
All parts are separated and connected with light finger pressure, which eliminates possible cuts or pricks during the assembly process.
The Metal Time kits comprises small parts that, under particular conditions, may be hazardous to children under the age of 14 years. If children are to carry out the model assembly, parents' supervision should be ensured.
User guide
14 languages User's guides will lead you through assembling process. In coming up with design for creative people, there is no borderline between imagination and reality.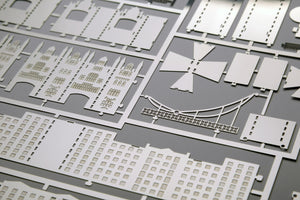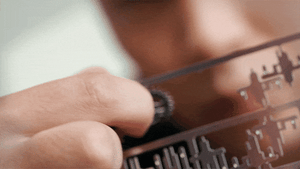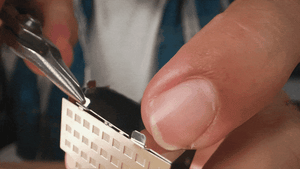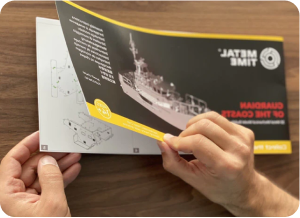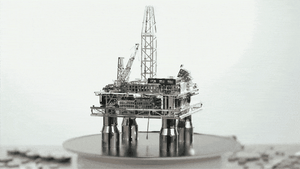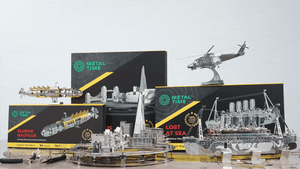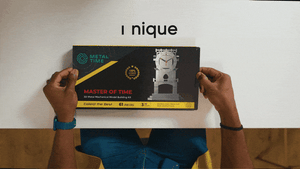 Purpose
Models are made up of many, small parts, which may be dangerous to children under 14 years old. The assembly of the model by children under 14 should be carried out under the supervision of parents. Models research and assembly advance technical creativity skills inspire science and technology history research.
Models of Metal Time are active leisure and superb gifts, interior embellishments, installation elements, models and showcase stands.
To make them gatherable and exchangeable, each of our models is assigned a unique serial number. The Metal Time Owners' Club is a group of people who are zealous about designing.
The loyalty program of Metal Time presents owners of our construction sets with pleasant surprises. Our models do not require glue or adhesive. Each part snaps off the sheet, then firmly snaps together.